Decorating your home without thinking about lightning and design is like going out to eat and getting a half – baked meal. An incomplete meal means it's missing the delicious other half, similarly, a home without proper lightning lacks it's elegant appeal. Have you ever dreamed of bringing mysterious Turkish night's into your home? 
Decorate your living space with Turkish lamp decor to give it a new and attractive look and complete it. Find out how these enchanting lamps will brighten up your living space, let us reveal what will take you to the realm of exotic beauty.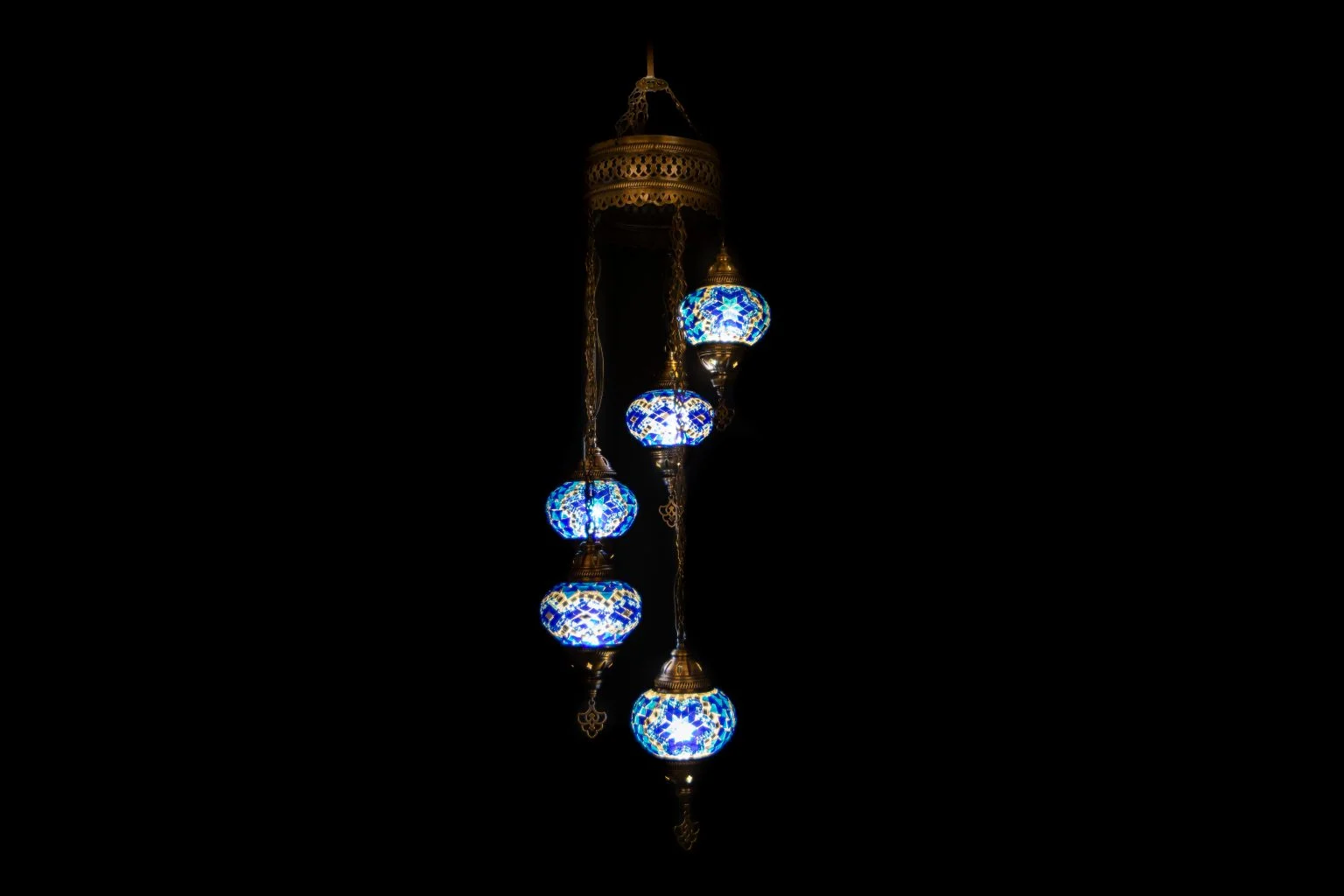 Turkish lamp decor is perfect for placing in entryways, basements, rustic rooms, or adding an oriental touch to your living room or dining room. The ambient light they create invites you to relax and unwind. The color mosaic design creates an incredibly diverse reflection when the lamp is lit. These are inspired by the lamps and decoration of the powerful Sultan's places of bygone eras. 
Sparkling crystal pieces of various sizes form an attractive shape, and the lampshade is decorated with round shapes. Turkish lamps are completely handmade in Turkey. Artisans meticulously hand-cut glass to craft diverse, stunning designs.The vintage appearance of Turkish lamp decor unquestionably elevates the room's ambiance. Incorporate Turkish lamp decor to effortlessly introduce vibrant colors and artistic allure into your space. 
The Beauty of Turkish Lamps
Turkish lamps draw inspiration from grand places of mighty sultans from the past. It's important to note that all Turkish lamps are lovingly handcrafted in Turkey. 
Glassmaking as a worthwhile profession dates black hundreds of years in Turkey, and most historians believe it reached its apex in the 16th century. Glassware from this period, including vases, decanters, glasses, sugar bowls, flasks, etc., exhibit remarkable sophistication and is an example of the refined aesthetic sensibility of the period's artisans. 
In fact, it was during this period that oil lamps with colourful glass shades first appeared, forerunner of the Turkish lamps we know today. 
The handmade artistic and cultural embroidery and painting on Turkish lamps reflects the cultural structure of this period. 
During Ramadan, they were traditionally displayed on the walls of Ottoman palaces. Turkish lamp decor which are also used as economic tools, are now very popular for artistic, cultural and decorative purposes.
The age old method, progressing through the ages, initially utilised ceramics and metals. As time advanced, it incorporated a fusion of glass and plaster, resulting in the creation of mosaic lamps. 
Crafted with a brass metal foundation and dual layered orbs, every lamp stands as a distinctive mosaic artwork. Deeply rooted in Ottoman tradition and craftsmanship, the heritage of Turkish lamp decor represents an ancient art form. 
Types of Turkish Lamps
Ceiling hanging lamps often feature ornate metalwork or colorful glass panels and provide beautiful ambient lightning. 

A slender tower lamps adorned with refined decor casts a gentle, warm glow in your space.Intricate lamp details make it look better, creating an attractive indoor setting. 

Swan Lamp, Graceful lighting resembling a swan, radiating elegance and charm, infusing a magical ambiance into your living space. 

A nautical-style lamp decor, including a lighthouse lamp, accentuates coastal beauty, capturing the sea's allure while bringing a calming glow to any space. 

Turkish-Moroccan style floor lamps provide charming touches to your indoor decor. Sturdy mosaic ball lamp, crafted from excellent brass, promises enduring sophistication and a prolonged lifespan. 
Unique artistry and craftsmanship: the perfect combination 
Turkish lamps are stunning due to their intricate and appealing designs. Turkish lamp decor is special, different in the mosaic design of the lampshade, color, even the picture of the structure of the lamp itself, the combination of designs of Turkish lamps is very diverse, bringing thousands of possibilities to the decoration of the atmosphere. They are 100% handmade products by skilled craftsmen in Istanbul, Turkey.Completely original with high quality mosaic crystals and finishes. 
In the beginning, Turkish lamp makers used ceramics and metals.Over time, they added glass and plaster to the materials to create mosaic lamps.This lamp has a double structure of brass metal parts and a ball. 
Handmade lamp decorations have a unique and charming charm. Made carefully by talented craftsmen, each lamp showcases their skills and imagination.
Decorative lamps for your home provide a combination of beauty and functionality. Whether your style is modern, vintage or eclectic, the right lamp can accent your interior and create a cozy atmosphere. 
Lamp Decor: Crafting Ambiance, Timeless Elegance 
The magical glow of Turkish lamps is like capturing the essence of a starry night in your home. Turkish lamps offer more than just light; they're like old storytellers sharing tales of far-off lands and times long ago. Its timeless and captivating brilliance captivates the heart and adorns any room with an enchanting glow. 
You can customize the atmosphere of your room by setting the appropriate mode with lamp decoration. Choose soft, warm light for a relaxing evening or bright, vibrant colors for an energetic atmosphere. Whether it's a quiet evening at home or a lively gathering, the versatility of lamp decoration allows you to create the ideal environment to suit your mood and make your space truly inviting. 
On the contrary, bright lighting with warm colors will energize and transform the room into a lively and inviting area, perfect for gatherings. Strategically placing lighting and adjusting its intensity can have a huge impact on the overall atmosphere and enhance the atmosphere for different activities and occasions. 
Discovering Turkish Lamp Decor: Finding, Adoring, and Maintaining 
Would you like to purchase Turkish lamp decorations to spruce up your home and give it a fresh appearance? 
Step into a local boutique steeped in the essence of tradition and innovation, characterized by bright colors and intricate designs. 
Whether you prefer to browse in-person or online, you'll find various Turkish lamp decor styles to enhance your space and reflect your taste.Reviews and ratings shared by other buyers are very informative, provide first-hand experience, and help you make decisions. 
To maintain the decorative charm of your Turkish lamp, first wipe it gently with a soft, dry cloth to remove any dust or dirt from the surface. 
If your lamp has stained glass, use a stained glass cleaner to maintain its shine. Be careful when cleaning and consider professional cleaning for antique or delicate pieces. 
Keeping your Turkish lamp decoration clean and well maintained will preserve its beauty, extend its lifespan and improve the atmosphere of your living space.
Where to Find Turkish Lamps?
You're in luck because at Decor Spectrum we have a great selection! Imagine lamps with intricate patterns made of small colorful pieces or elaborately crafted with intricate metalwork. And these lamps are not just ordinary lights.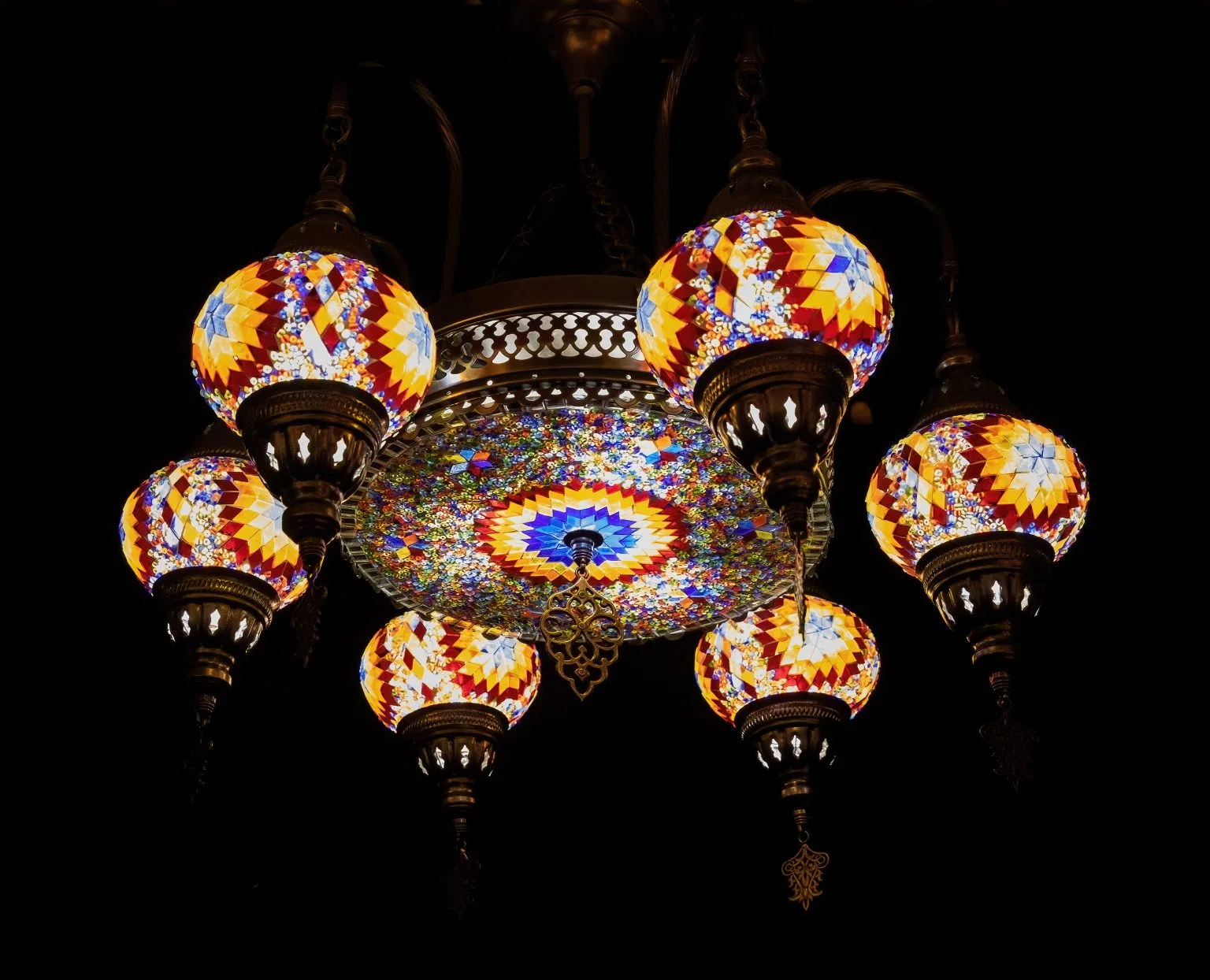 Our Turkish lamp collection can be found both in-store and online, allowing you to choose from the comfort of your own home.
Immerse yourself in our product range and let these wonderful lamps fill your living space with a touch of magic.
Visit the Decor Spectrum store or browse online to explore the enchanting world of Turkish lamps.
Conclusion 
Adding Turkish lamp decor turns any room into a mystical oasis.Intricate designs and vibrant colors reminiscent of old tales transport you to a world of timeless beauty. 
Create a paradise of enchantment and wonder within the walls of your home by working the magic of Turkish lamps. 
Each Turkish lamp is a masterpiece, carefully handcraft to reflect the richness of Anatolian culture.Imagine your living room or bedroom bathed in the enchanting hues of Turkish lamps, as if you were transported to a land where stories come to life in the flickering of shadows. 
Step into the world of Turkish lamp decoration, let your heart be conquere by its charm and enjoy your living space in the magical embrace of these exquisite pieces. Discover the joy of life with the magical touch and charm that Turkish lamp decor brings to your home.