Even the most modern home can add just the right amount of color to a room with these stunning handmade lamps. However, Turkish lamp decor are not only suitable for historic homes. 
Turkish lamps Decor combine aesthetics and functionality to create an entirely different look in the room they get placed. Enhance the aura of your rooms with the best choice of Turkish Moroccan lamps.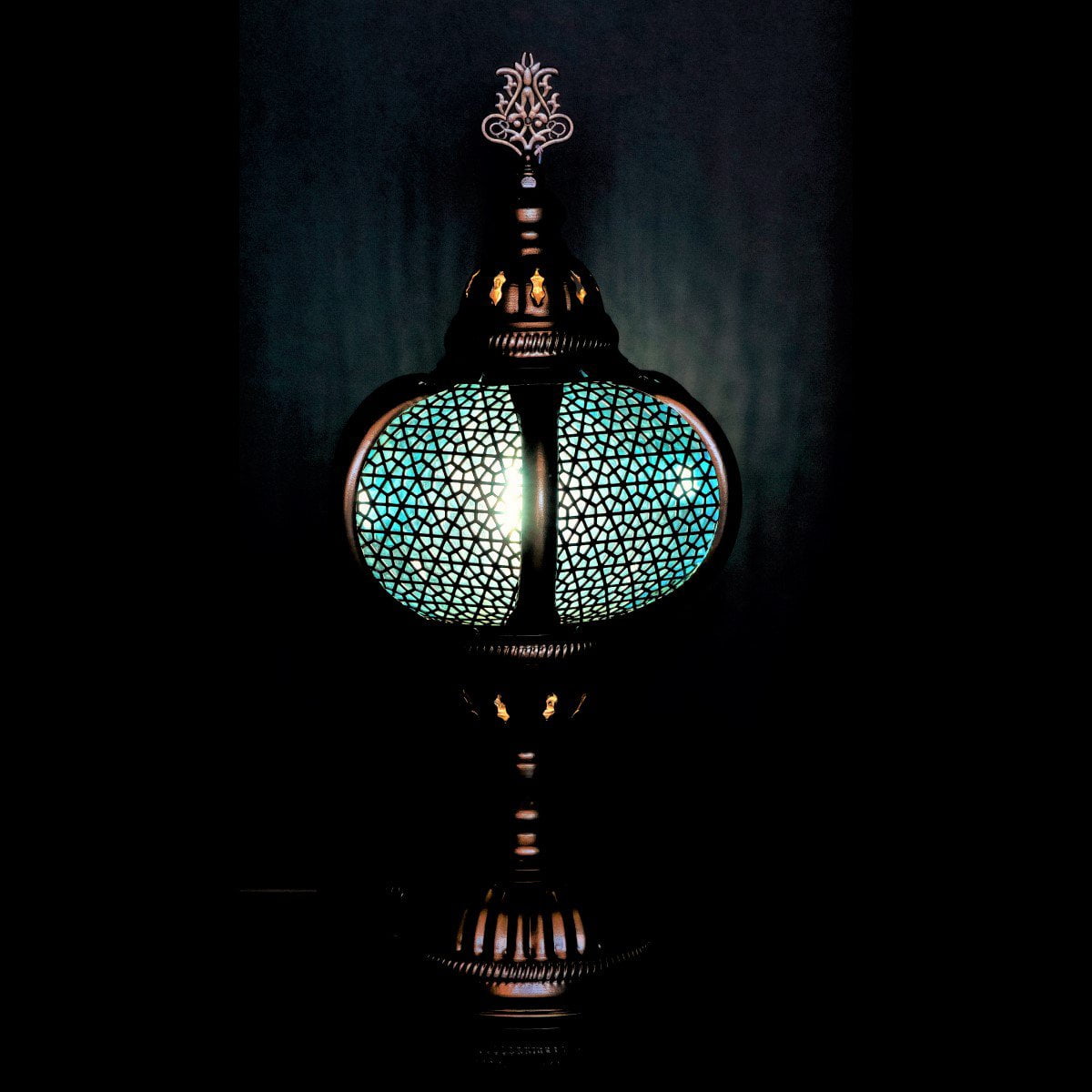 Turkish Lamp Decor Styles
With so many Turkish mosaic lamps available in different sizes, you might get confused about making the right choice. Our guide will give you the knowledge and information you need to choose a Turkish Moroccan Lamp per your specific requirement. 
Colorful mosaic lamp lights from Turkey and Morocco are handmade. Turkish glass lamps have a glass bulb decorated with mosaic beads and glass. 
Craftsmen cut each piece of glass by hand to create a variety of beautiful designs. The antique finish of the Turkish lamp decor will definitely enhance the atmosphere of the room in which it is placed. Add Turkish lamp decor to your space to infuse vibrant hues and artistic charm effortlessly. 
Turkish lamps Decor items to create a warm atmosphere
Swan Lamp: Elegant lighting that resembles a swan, exuding elegance and charm and adding a touch of magic to your room. When it comes to adding an element of elegance and grace to your home decor, swan lamps are a choice that embodies both functionality and artistry. 
Lighthouse lamp decor: A nautical-style lamp decor that emphasizes the beauty of coastal life, evokes the charm of the sea, and adds soothing lighting to any room. 
Tower lamp: A slim tower lamp with elegant lamp decoration illuminates your room with warm light. Elaborate lamp decorations accentuate its beauty and create an attractive interior design.
Turkish-Moroccan style floor lamps are handmade and often used to decorate bedrooms, children's rooms and living rooms. Mosaic lamps come in his three color options (daylight, warm, and white). Turkish lamps Decor MOSAIC using original colored glass. It Gives the Turkish floor lamp a clean and vibrant look. 
Turkish style lamps are handcrafted by artisans, so each one is unique. Turkish-Moroccan style floor lamps have a vintage feel and can be placed in your living room. 
Handcrafted Turkish – Moroccan hanging lamps made of glass beads and hand-cut glass pieces. No installation required. 
The Turkish lamp decor, Moroccan lamp, Mosaic floor lamp has 9 balls and is one of the most beautiful decorative lamps that can be used to illuminate the bedroom, living room and other rooms of the house. 

The colored filling gives the Turkish lamp decor extra stability and longevity. Turkish Demex With his 11 balls on his lamp, his tall lantern will catch the eye wherever you place it. 

Turkish- Moroccan style floor lamps add beautiful accents to your interior.High quality brass material contributes to the robustness of the mosaic ball lamp. 
Now that your home is enchanted by the beauty and timeless handmade quality of Turkish ornaments, why not enjoy the warmth and charm while relaxing in the comfort of a hand-woven Turkish robe? 
Turkish Our 100% cotton terry bathrobes are perfect for cozying up by the fireplace on a cold December night with a cup of hot chocolate, or enjoying a book by your favorite author by the light of a mosaic table lamp. 
Whether it's the stunning ceramic creations that emerge from Nimet Vári's fair trade workshop, the hand-crafted beauty of traditional Turkish lamps decor, the mystery and generative power of the evil eye, or the purity that our fluffy Turkey His Terry towels offer luxury, whatever it may be. 
You can never go wrong by adding handmade Turkish lamp decor components to your interior. If you actually experience them, you will think so too.
One of the joys of traveling is strolling through local markets in faraway cities. Not every decorative item you find will give you the aesthetic stimulation you're looking for (for example, you might want to forgo that "horse selfie" blanket), but this article will show you the treasures that await enthusiasts. 
Nothing enlivens your interiors like unexpected and eclectic accents. Here are some traditional items to look for when traveling. Russian lacquer boxes – Russian artisans are known for their matryoshka dolls, but for centuries they have also been creating unparalleled lacquer boxes. 
These usually consist of pressed layers of papier-mâché, before drying in a kiln and hand-painting. Most often, the images of these enchanting must-haves are scenes from traditional Russian legends and fairy tales. 
Most often, the images of these enchanting must-haves are scenes from traditional Russian legends and fairy tales. However, you should be careful when purchasing lacquer boxes in some major cities, as counterfeit products from China are on the market. 
Moroccan Rugs – Moroccan artisans have been making handmade rugs for two centuries. This tradition is thought to have originated from a desire to add a local touch to the exotic Turkish rugs imported by the wealthy in the 19th century. 
But whatever the specific reasons for the birth of carpet making in Morocco, they have undoubtedly put their own stamp on it, imbuing their creations with dynamic colors and highly intricate and sophisticated geometric patterns. 
Enchanting Spaces: Turkish Lamps Adding Elegance and Radiance 
Turkish Mosaic Lamp – Few people know that Louis Comfort Tiffany didn't just come up with the idea of stained glass lampshades. In fact, he was directly inspired by the mosaic lamps he saw in the markets of Constantinople at the time. 
Of course, he added his own design touches to westernize the art form, but without Turkish lamps decor there would be no Tiffany & Co. Traditional handmade Turkish lamps can be found in markets throughout Asia Minor. 
You can also purchase directly from Paykoc Imports' secure website. Venetian Carnival Mask – Before there was Mardi Gras in New Orleans or Carnival in Rio, there was Carnival in Venice.
These included lavish balls for the aristocracy, whose visitors often arrived wearing elaborate handmade masks. The Venetian Carnival Mask still exists, and the better masks made by Venetian workshops are stunning creations that will instantly become a talking point when incorporated into your own interior design. 
Imaginary City Maps – You can purchase imaginary city maps for almost any city in the world. Some are nothing special, while others are great pieces of art that add a worldly, carefree touch to your interior when framed. 
If you search the off-the-beaten-path markets of some European cities, you can find antique city maps that are not only interesting additions to your decor, but also collectibles. Some commemorate important family events, while others simply catch your eye with their color or style. 
But if you want to catapult your Christmas tree to the next Christmas dimension, look for traditional Christmas decorations while you're traveling, like hand-carved figurines from Germany or vintage beaded ornaments from Colombia. Traditional Indian pouf – A traditional Indian pouf is a type of handmade ottoman that is decorated with colorful embroidery, beads, decorative stitching, etc. 
Conclusion 
If you're looking for a way to add a little color to a room to balance out more modest decorative items, both traditional Indian poufs and Turkish lamps decor are ways to do it. Chinese Teapots – Chinese factories are known for producing everything from fake Russian lacquer boxes to fake 
Honda SUVs (and rightly so), but Chinese artisans are known for , there are still some things that are being praised. 
One of them is a handmade porcelain tea set. Placing a traditional Chinese porcelain tea set in your living room or dining room will complement the entire interior, and it also has the added benefit of being convenient.